The Foundation for World Education bids a grateful farewell to longtime board member, Margo MacLeod. Margo served on the FWE board with tremendous passion, dedication, and ability for thirty-three years before peacefully transitioning out of her physical form, surrounded by people she loved, on April 2, 2018. It is impossible to overstate Margo's contribution to the evolution of FWE's vision, action, and governance structures and policies.
Some Background
In the early 1950's, Mother asked Eleanor Montgomery to found an organization in New York City to raise funds for the Sri Aurobindo Ashram School. Mother served as the first president of the board. Initially named, "Sri Aurobindo International Center Foundation," by the time of Mrs. Montgomery's death in 1983, FWE had its new name and had evolved into an organization that described itself as "a center of learning without distinction of race, nationality, caste, sex or creed so that such education might be provided without charge." The board invited scholars and illuminated thinkers from the Sri Aurobindo community and from around the world, including luminaries such as Teilhard de Chardin, to share their perceptions and ideas.
The Early Board
Mrs. Montgomery bequeathed her entire estate to FWE, and, when Margo joined as treasurer in 1985, a newly formed board faced the complex task of starting a completely new phase of FWE's activities. The estate needed to be consolidated, financial management protocols had to be developed, the board had to create an effective decision-making process, and decisions were needed on the best way to utilize resources to promote the manifestation of Sri Aurobindo and Mother's Integral Yoga.
In addition to a deep grounding in Integral Yoga, Margo brought a wealth of practical skills and experience to the task. During eighteen years at Goddard College she created and directed BA and MA level programs, and her interest in non-profit organizations led her to undertake a doctoral program at Yale University that culminated with a dissertation that examined the financial dynamics of non-profits.
Leadership and Service
In addition to her service as treasurer, Margo also served terms as president and secretary of FWE. Her expertise, creative vision, and dedication of time and energy played an essential role in shaping FWE into an "evergreen" fund that will continue in perpetuity to provide seed funding for projects dedicated to the ongoing action of Sri Aurobindo and Mother's Integral Yoga in the world. FWE owes her a deep debt of gratitude for providing essential leadership and guidance as the organization, in her words, "developed a functioning board with by-laws, long term planning for endowment development, and effective procedures for grant applications, evaluation, and assessment."
Passion for Integral Education
With her enduring passion for education and her special love and appreciation for Auroville and its Integral Education programs, Margo played a particularly helpful role in focusing FWE's support to Auroville. Her intelligence, expertise, and personal warmth were key in shaping FWE's decisionmaking as it has, for over thirty years, provided support for a range of equipment and programs as varied as computers, learning materials, books for school libraries, innovative teaching programs, a children's summer camp, and a new roof for the circus school.
Collaborating with Heidi Watts
Margo was also a key, enthusiastic instrument in initiating and supporting the work of Heidi Watts in Auroville. Heidi is a leader in alternative education in the United States, and, with the help of an FWE grant, reluctantly visited Auroville in 1991. She has returned every year since and has offered countless trainings and workshops for teachers, advised on issues of administration, facilitated communication within the teaching community, and advocated for ongoing training programs for teachers. She also ran a highly successful, exchange program between Auroville and Antioch College for over twenty-five years. Her positive influence on the Auroville education system is unmistakable, and in recent years, Margo visited Auroville several times and enjoyed offering her expertise to programs there and partnering with Heidi on several projects.
Below is a recent description by Heidi of the evolution of education at Auroville, facilitated in part by the manifold, ongoing support of FWE:
"When I first went to Auroville many of the children at Transition, the only elementary school at the time, were running wild. There was no coherent curriculum, and the teachers were primarily mothers trying to provide some kind of schooling for their children and a few others with no training, and only a memory of their own, often-repressive school experiences, to guide them. A very few dedicated and trained teachers were conducting something which looked like a recognizable learning environment.
"Today Transition is a school many parents in the U.S. would vie to have their children attend. There is a coherent, sequential curriculum, an established schedule, experienced and dedicated teachers, freedom but not license. Two other elementary schools, TLC and Deepanam offer alternative models, and, though both are still evolving, they are beginning to define themselves in a way consistent with their interpretation of Integral Education. The three Auroville kindergartens are delightful examples of appropriate pedagogy, and the same could be said of the Outreach Schools, Aikiyam, Udavi and Isai Amballam. These schools are growing from strength to strength, moving from an authoritarian, top-down, pour-it-in model to something more studentcentered and respectful of individual differences."
– Heidi Watts, on education in Auroville
Awareness through the Body
In recent years, Margo also became dedicated to bringing Awareness Through the Body to the United States. ATB is a unique and well-regarded Auroville program that focuses on attention to bodily sensation and wisdom in order to achieve an experience of Integral Yoga. For several years, Margo and Heidi sponsored workshops and trainings in the U.S. by Aloka, a co-creator of ATB. Teaching ATB to people of all ages, including small children, was one of Margo's great, fulfilling joys in these last years. Margo saw a great future for ATB in the world and hoped to, in her own way, contribute to it being better known in the Americas.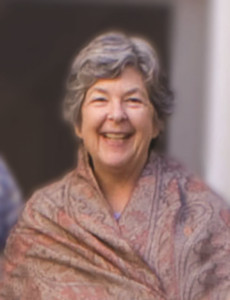 We at the Foundation for World Education thank her for her tremendous service to the board and to Integral Yoga, and wish her well on the next phase of her journey.